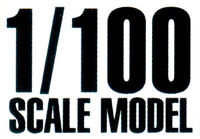 The 1/100 Gundam 00 Model Series (NG00) is a line of No-Grade Gunpla kits of the Mobile Suits from the Anno Domini timeline in the Gundam meta series.[1] This would be the final 1/100 scale No-Grade line until the start of Reborn-One Hundred in 2014.
Yen price excluding 5% tax (8% from 2014 onwards).
References
See also
Ad blocker interference detected!
Wikia is a free-to-use site that makes money from advertising. We have a modified experience for viewers using ad blockers

Wikia is not accessible if you've made further modifications. Remove the custom ad blocker rule(s) and the page will load as expected.