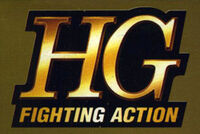 High Grade Fighting Action or HG Fighting Action is a line of Gunpla kits of the Mobile Suits from New Mobile Report Gundam Wing: Endless Waltz, released in 1998.[1] Clear remolds of the kits were also offered on December 1998 with the box art printed on a blue background.
Yen price excluding 5% tax (8% from 2014 onwards).
See also
References
External links
Ad blocker interference detected!
Wikia is a free-to-use site that makes money from advertising. We have a modified experience for viewers using ad blockers

Wikia is not accessible if you've made further modifications. Remove the custom ad blocker rule(s) and the page will load as expected.