Ad blocker interference detected!
Wikia is a free-to-use site that makes money from advertising. We have a modified experience for viewers using ad blockers

Wikia is not accessible if you've made further modifications. Remove the custom ad blocker rule(s) and the page will load as expected.
Cerulean (セルリアン) is the first opening theme of Gundam Build Fighters Try. The song is available in the single, セルリアン / Silent Trigger and was sung by the Japanese rock band, BACK-ON. Limited edition comes with HG 1/144 Gouf R35 transparent version.
Track Listing
CD Edition
セルリアン
Silent Trigger
セルリアン〜instrumental〜
Silent Trigger〜instrumental〜
Audio
Does not work on iPad, or any medium that does not support the .ogg audio format.
| No. | Songs | Duration | Audio |
| --- | --- | --- | --- |
| 01 | Cerulean | 04:01 | |
Lyrics
Genkai nante nai zettai nante nai

Genkai nante nai tte kimi no kotoba ni akogarete

Kono te o nobashitan da

Zenkai dashite naite waratte

Mada kumori you no nai sora no shita

Fumidasu no saa ano basho e
Hajimari nante onaji de

Atsukunatta naifu ga bokura no mune o tsurunuita

Ame no reesu no ue hashiritsudzukete

Kizutsuite ushinattemo mada wasurerarenai kara
The skies are gray,

But we're still showing off our faith

Mou ki ni wa naranaide blame to pain

Aa, tsukamitoru no sa eikou

Sono haato ni flame on
Zettai nai tte kotoba ni sakaratte chikatta

Yume e to kono te o nobashiterun da

Seikai nante mou nakutatte

Kotae wa bokura no mune no naka ni aru

Futtou shite moete tsukamun da
Genkai nante nai
限界なんてない絶対なんてない


限界なんてないって君の言葉に憧れて

この手を伸ばしたんだ

全快出して泣いて笑って

まだ曇りようのない空の下

踏み出すのさあの場所へ
始まりなんて同じで

熱くなったナイフが僕等の胸を貫いた

雨のレースの上走り続けて

傷ついて失ってもまだ忘れられないから
The skies are gray,

But we're still showing off our faith

もう気にはならないでblameとpain

ああ、掴み取るのさ栄光

そのハートにflame on
絶対ないて言葉に逆らって誓った

夢へとこの手を伸ばしてるんだ

正解なんてもうなくたって

答えは僕等の胸の中にある

沸騰して燃えて掴むんだ
限界なんてない
There's no such thing as limits; there's no such thing as absolutes

"There's no such thing as limits." Your words became my inspiration,

And I reached out my hand towards you
I went all out and cried and laughed

I'll step forward towards that place

Beneath a clear sky without a cloud in sight
The beginning is always the same–

A hot knife pierces our hearts

We keep running our race through the rain,

And even if we get hurt or lose someone, we still can't forget
The skies are grey,

But we're still showing off our faith

We don't care anymore about blame or pain

Ah, we're gonna seize that glory

And put a flame on in our hearts
I swore I'd defy the words, "You'll never make it,"

And I'm reaching out my hand towards my dreams

Although there are no right answers anymore,

We hold the solution in our hearts

Just boil over and get fired up and grab it
There's no such thing as limits
Video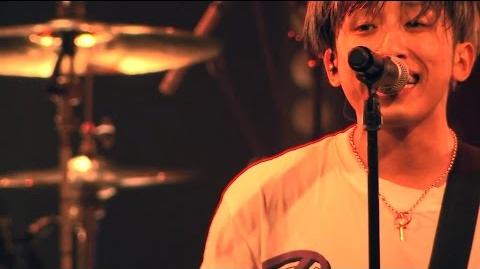 Links