Chall Acustica

Appearances

Manga
Photo Novel

Profile

Hair Color
Eye Color
Age
Birth Date
Gender
Love Interests
Nationality
Affiliation
Occupation

Celestial Being Agent (00P-S2)
Chall Acustica (シャル・アクスティカ, Sharu Akusutika?) is a fictional character in the side stories of Mobile Suit Gundam 00. Chall is one of the main protagonists in both Mobile Suit Gundam 00P and Mobile Suit Gundam 00F. In Season 1 of 00P, Chall is a Second Generation Gundam Meister belonging to Celestial Being's Krung Thep and pilots the GNY-004 Gundam Plutone; she returns as a Celestial Being Agent of Krung Thep in Season 2. In 00F and 00I, Chall is the commander of the Celestial Being's branch group, Fereshte.
Personality & Character
When Chall was young, she was shy, daring, and friendly to everyone. After the deaths of Ruido Resonance and Marlene Vlady, she lost her confidence as a Gundam Meister. In Gundam 00F, Chall hides her grief while maintaining a strong appearance.
Skills & Abilities
Chall is a trained MS pilot. Next to Setsuna F. Seiei, she's the second youngest Gundam Meister in CB history. She was involved in the development of the Gundam. In Gundam 00F, Chall has become the director of Fereshte.
History
Gundam 00P
Selected for recruitment by Veda on the basis of her academic performance and her ranking in Power Loader competitions. Ruido Resonance believes that other qualities may have influenced Veda's arbitration. She is being trained by her mentor and friend Ruido during her inception as Meister. To improve Chall piloting skill he had her pilot the GNY-001 Gundam Astraea. Chall may not be an excellent pilot like Ruido, but she tries her best by accompanying Ruido throughout his missions.
Ruido marrying Marlene
It is two weeks since the second generation Gundams development is officially finished. CB goes into the plan of the third generation Gundams. Ian, who is a mechanic, became busy, but Ruido and gang who are Gundam Meisters do not know what to do in their everyday free time. It was at this time that Ruido and Marlene were married. Chall blesses the two. Chall proposes the marriage ceremony for these two who she liked a lot. Chall saw on the outskirts of HRL, a place within a mountain that is rarely visited by people. It is a place where an extensive range of cherry trees can be seen as far as the eye can see. Gundam Meister 874 flew a small flying ship to the place.A ring is not sent, but Ruido removes her necklace. Ruido took the permission from Veda for Marlene to step out of being a Gundam Meister. And from here, Chall marries Ruido to Marlene. In 2293, Ruido and Marlene gave birth to Feldt. This false name "Feldt" (Feldt has a real name) was Ruido and Marlene's idea, and Chall was also consulted. Marlene is also registered as a spare meister, but now her daily work is on watching over Feldt's growth. Chall is pretty much similar, and Ruido is working on the third generation Gundams.
Death of Ruido and Marlene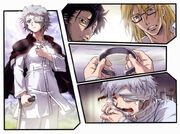 A terrorist plot was about to happen directed towards the HRL Orbital Elevator. Veda decided not to intervene, but Chall and the gang, who does not understand CB's existence, worked up with an intervention plan. The mission's vital point is Gundam Plutone. During a mission with Chall/Plutone, Ruidio/Astraea, Marlene/Abulhool, and Meister 874/Sadalsuud. Plutone's GN Drive malfunctioned and caused a massive GN particle build up. The core fighter's escape system did not function. Thinking about it, there is an interference from a superior system. In order to save Chall, Ruido's Astraea and Marlene's Albulhool approached. Gundam Meister 874 activated the core system for Chall to escaped while Ruido and Marlene block the GN particles from spreading. "You must live" – These were the last words she heard.
The highly concentrated GN particles overwhelmed their bodies and killed both Marlene and Ruidio in the process. Chall was saved, but it left a huge scar on her left eye and the left of her body, her hair turned white. The only things left from the original Chall are her body which was scarred here and there, and the hair ornament of Marlene. "Why did Marlene tell me, 'Live!'? What should I do with my life?" There is no simple answer. To succeed the will of the two. To eradicate the dispute caused by war. The ideas of Aeolia changed in Chall as something greater.
Aftermath of the Plutone Accident
In 2302, Chall visited Moreno's medical office for her regular treatments. Chall, whose body has been bathed in an overdose of GN particles in the "Plutone Accident", had a heavy disability on her cells. Her telomeres are damaged, and regenerative treatment also can't be done. As it is said that cell division can't be done normally, without the ability to do renewal, she also can't live normally. Gundam Meister 874 offered the nanomachines that repair the cell disorder. When the restoration of the telomeres is done, perpetual youth is achieved too. Moreno continued to study GN particle toxicology along with Chall's medical treatment.
Creating Fereshte
Chall was crushed by sadness upon learning of Grave Violento's "record erasure". From Chall's personal computer terminal, data on "Fon Spaak," who Grave was proposing to scout, was sent to Veda. Seeing that, Chall made the best use of what Grave had left behind for her. She decided to make Fon Spaak a comrade and continue moving forward along with Meister 874, under the saboteur to Aeolia's plan, she caused the conflict of her own accord, but no evidence was found. Taking responsibility for the civil war, she was sealed into a restricted-function terminal and assigned to Fereshte.
Gundam 00F
Presently the commanding officer of Fereshte, having ceased active service as a Gundam Meister after that unfortunate incident that killed Ruido and Marlene. Following the completion of the third generation Gundams, she obtained permission from Veda to set up a separate branch of Celestial Being known as Fereshte. In AD 2311, Chall Acustica, Eco Calore,and Sherilyn Hyde disbanded Fereshte and help Celestial Beings on the development of the 00 Gundam. Hixar and Hayana left Celestial Beings base to travel around in search of Fon Spaak for his betrayal.
Gundam 00I
Chall and her team finds out Veda is gathering six Innovades to tell each one of them their true purpose. To learn Veda's purpose of gathering six Innovades Chall helps Leif Recitativo and Telicyra Herfi complete their goal. In chapter 10, Chall gives innovade medical treatment data made by Doctor Moreno to Telicyra to help his friend Leif Recitativo. Later on, she helps Telicyra sneak into Celestial Beings secret base to recruit Tieria Erde as one of the six comrades, but the mission failed when the E.S.F army attacked the base. Chall and the rest of the team escape in a small shuttle.
Relationships
Celestial Being
Main articles: Celestial Being, Krung Thep, and Fereshte
Krung Thep
Fereshte
Picture Gallery
Notes
References
External links
---