Dolores Haynes

Appearances

Photo Novel
OVA

Voices

Japanese
English

Profile

Age
Gender
Occupation
Dolores Haynes (ドロレス・ヘイズ, テルコット?), also known as Dorothy, is a character that appears in the Mobile Suit Gundam 0080: War in the Pocket OVA.
Personality & Character
She always gets into arguments with Al and his war-obsessed buddies. Despite her strong competitive streak, she is essentially a nice girl.[1]
History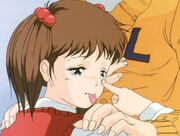 Dolores was present at the speech made in front of her ruined school, standing to the left of Al and in behind of Chay. She was the first one to notice that Al was crying and went off to get a teacher. She and the teacher retuned to find Al being "cheered up" by Chay and Telcott's insensitive eagerness for another war to come soon.[2]
References
↑ Simmons, Mark and Wright Benamin (2002) Animerica Gundam Official Guide (p.31)
Ad blocker interference detected!
Wikia is a free-to-use site that makes money from advertising. We have a modified experience for viewers using ad blockers

Wikia is not accessible if you've made further modifications. Remove the custom ad blocker rule(s) and the page will load as expected.