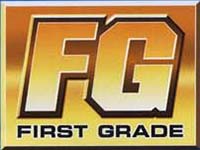 First Grade (FG) (ファーストグレード, Fāsuto Gurēdo?) is a line of 1/144 scale Gunpla kits of the Mobile Suits from the Universal Century and Anno Domini timelines in the Gundam meta series.
Universal Century
The original First Grade line was part of the Gundam 20th Anniversary Big Bang Project in 1999 as a modern remake of the original 1980 1/144 kits. As such, the kits were molded in one color and contained no polycaps, but featured the snap-fit assembly of current kits. The three Gunpla in this line used designs based on their Perfect Grade counterparts.[1]
Yen price excluding 5% tax.
Anno Domini
The second incarnation of First Grade was released in 2007 for the first season of the Mobile Suit Gundam 00 series. Unlike the original line, this line has the kits molded in multiple colors. The four box covers can combine into a mural forming the Ptolemaios in the background.[2]
Yen price excluding 5% tax (8% from 2014 onwards).
See also
References
Ad blocker interference detected!
Wikia is a free-to-use site that makes money from advertising. We have a modified experience for viewers using ad blockers

Wikia is not accessible if you've made further modifications. Remove the custom ad blocker rule(s) and the page will load as expected.