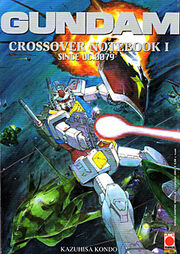 Gundam Crossover Notebook(ガンダムクロスオーバーノートブック,Kidō Senshi Gundam Crossover Notebook) this artbook contains Kazuhisa Kondo Illustrations as well as a manga short story Mobile Suit Vor!!, published by MediaWorks in 1998.
Story
Gundam Crossover Notebook I Since UC.0079
Gundam Crossover Notebook II Since UC.0083-0153
Unlimited Crossover Notebooks III Since AD. 1984~2000
Mobile Suits
VSG-3 Z Gundam
Gustav Marasai Z
Gallery
See also
Editions
External links
Ad blocker interference detected!
Wikia is a free-to-use site that makes money from advertising. We have a modified experience for viewers using ad blockers

Wikia is not accessible if you've made further modifications. Remove the custom ad blocker rule(s) and the page will load as expected.