Ad blocker interference detected!
Wikia is a free-to-use site that makes money from advertising. We have a modified experience for viewers using ad blockers

Wikia is not accessible if you've made further modifications. Remove the custom ad blocker rule(s) and the page will load as expected.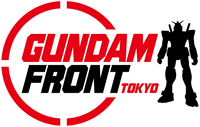 Gundam Front Tokyo (GFT) (ガンダムフロント東京, Gandamu Furonto Tōkyō?) is a museum and store themed after the Gundam franchise. It is located at Diver City Tokyo Plaza in Odaiba, Tokyo, Japan.
Overview
Gundam Front Tokyo opened on April 19, 2012 and occupies three different sections of the Diver City Tokyo Plaza mall, with the museum residing on the seventh floor.
Attractions
First introduced in 2009, the 18 meter tall Gundam Statue made its permanent residence outside the mall in 2012. There, it was upgraded with Magnetic Coating joint parts and decorated with a new livery. At 12:00 p.m., 3:00 p.m., and 5:00 p.m., the statue's eyes light up and the head turns left and right while the chest vents emit smoke. During nighttime, the wall behind the Gundam acts as a theater screen that displays featured short films while the Gundam is decorated in special lighting schemes.
Featured films
Current
Former
Dome-G
The main attraction of the GFT museum, Dome-G is a domed theater that is 16 meters in diameter and is equipped with six projectors and 13 speakers. G-Dome plays special short films that span the entire interior of the dome.
Featured films
A life-sized bust of the Strike Freedom Gundam located in the GFT museum. Guests are allowed to pose on the Gundam's cockpit hatch.
A life-sized replica of the battle damaged Core Fighter as seen in episode 43 of Mobile Suit Gundam.
A replica of the Principality of Zeon's space fortress that stands 4.5 meters tall and 3 meters wide.
Character Photo Spot
Guests can have their photos taken beside their favorite Gundam universe characters.
Gunpla Factory
In this section of the museum, guests can view the machine and molds that make Gunpla.
Gunpla Labo
Next to the Gunpla Factory is a small workshop where guests can assemble their Gunpla and color the box art.
Gundam Official Shop
A store that sells Gunpla and official GFT merchandise. A satellite branch in the form of a trailer shop is located just beside the 1/1 Gundam statue.
Gunpla Tokyo
A gallery of every Gunpla manufactured since 1980.
Strict-G
A store that sells Gundam-themed clothing and apparel.
Gundam Café
Located on the second floor of the mall near the Gundam statue, the Gundam Café serves Gundam-themed food and drinks.
VR ZONE Project i Can
VR ZONE Project i Can is a virtual reality entertainment center run by Bandai Namco Entertainment that opened on April 15, 2015. On August 26, the center will open the Gundam VR Daiba Assault experience, where players will cling to the hand of the Gundam Statue as it battles a Zaku. The experience is eight minutes long and costs ¥1,000. VR Project i Can will operate at Diver City Tokyo until October 10, 2016.[1]
Future
On December 1, 2016, Bandai announced that the Gundam statue will be dismantled on March 5, 2017. Gundam Front Tokyo will close on April 5, as Bandai is planning new projects within the year. There are also plans to make the Gundam statue walk by 2019.[2]
Official Goods
| Gunpla Series | Scale | Model | Series | Yen Price | Release Date | Notes |
| --- | --- | --- | --- | --- | --- | --- |
| High Grade Ver.G30th | 1/144 | RX-78-2 Gundam Ver.GFT | Mobile Suit Gundam | ¥1,645 | 2012 April | Gloss color variant of Ver.G30th kit with Magnetic Coating joint parts, a 1/144 scale Amuro Ray figurine, and additional marking sheet and water slide decal sheet. |
| High Grade Universal Century | 1/144 | RX-93 ν Gundam Ver.GFT | Mobile Suit Gundam: Char's Counterattack | ¥2,571 | 2012 April | Re-release of HGUC-86 with additional marking sheet. |
| High Grade Gundam SEED | 1/144 | ZGMF-X20A Strike Freedom Gundam Ver.GFT | Mobile Suit Gundam SEED Destiny | ¥1,645 | 2012 April | Re-release of HG SEED-34 with a display stand for the upper torso only, as well as an additional marking sheet to replicate the 1:1 scale bust displayed at the venue, plus 1/144 scale figurines of Kira Yamato and Lacus Clyne. |
| Mega Size Model | 1/48 | RX-78-2 Gundam Ver.GFT | Mobile Suit Gundam | ¥8,023 | 2012 April | Gloss color variant of MSM-01 with Magnetic Coating joint parts and additional marking sheet and water slide decal sheet. |
| Universal Century Hard Graph | 1/35 | FF-X7 Core Fighter Ver.GFT | Mobile Suit Gundam | ¥4,628 | 2012 April | Re-release of UCHG-07 with additional water slide decal sheet. |
| Real Grade | 1/144 | RX-78-2 Gundam Ver.GFT | Mobile Suit Gundam | ¥2,880 | 2012 July | Re-release of RG-01 with a BA-1 display base and adapter to replicate the floating pose on the venue's promotional posters, as well as Magnetic Coating joint parts, a floating Amuro Ray figurine, and an extra marking sheet of the 1:1 scale Gundam statue's 2012 livery. |
| SD Gundam BB Senshi | N/A | RX-78-2 Gundam Ver.GFT | Mobile Suit Gundam | ¥1,029 | 2012 December | Re-release of BB-329 with Magnetic Coating joint parts, a display base, and additional marking sheet. |
| Mega Size Model | 1/48 | MS-06S Char's Zaku II Ver.GFT | Mobile Suit Gundam | ¥8,023 | 2012 December | Gloss color variant of MSM-02 with and an additional marking sheet and water slide decal sheet. |
| Real Grade | 1/144 | MS-06S Char's Zaku II Ver.GFT | Mobile Suit Gundam | ¥2,880 | 2013 April | Gloss color variant of RG-02 with and an additional marking sheet. |
| High Grade Universal Century | 1/144 | MSN-04 Sazabi Ver.GFT | Mobile Suit Gundam: Char's Counterattack | ¥2,880 | 2013 April | Re-release of HGUC-88 with additional marking sheet. |
| High Grade Universal Century | 1/144 | MSM-04 Acguy Ver.GFT Tricolor Paint | Gundam Stand at Jaburo | ¥1,749 | 2013 April | Color variant of HGUC-78 in Gundam colors with additional marking sheet. |
| High Grade Universal Century | 1/144 | Char's Z'Gok vs. GM Ver.GFT | Mobile Suit Gundam | ¥1,543 | 2013 July | Twin pack containing color variants of HGUC-19 and HGUC-20. |
| Master Grade | 1/100 | RX-93 ν Gundam Ver.GFT | Mobile Suit Gundam: Char's Counterattack | ¥7,200 | 2013 July | Exclusive release of MG-163 with red psychoframe and additional marking sheet. |
| High Grade Universal Century | 1/144 | RX-0 Unicorn Gundam 03 Phenex (Destroy Mode) Ver.GFT | Mobile Suit Gundam UC: One of Seventy Two | ¥2,571 | 2013 August | Parts and color variant of HGUC-100. |
| Master Grade | 1/100 | RX-78-2 Gundam Ver.3.0 GFT | Mobile Suit Gundam | ¥4,628 | 2013 December | Gloss color variant of MG-178 with an additional sticker sheet to replicate the "Wall-G" projector screen on the cockpit hatch. |
| High Grade Universal Century | 1/144 | RX-0 Unicorn Gundam 02 Banshee (Destroy Mode) Ver.GFT | Mobile Suit Gundam Unicorn | ¥2,571 | 2013 December | Release of HGUC-134 with darker gold psychoframe and additional left trigger hand. |
| SD Gundam BB Senshi | N/A | MSM-03 Gogg & MSM-04 Acguy & MSM-10 Zock Ver.GFT Tricolor Paint | Gundam Stand at Jaburo | ¥1,543 | 2013 December | Color variant of BB-238 in Gundam colors. |
| High Grade Universal Century | 1/144 | RX-0 Unicorn Gundam 03 Phenex (Destroy Mode) Ver.GFT Clear Color Ver. | Mobile Suit Gundam UC: One of Seventy Two | ¥2,571 | 2014 April | Clear color variant of HGUC Unicorn Gundam 03 Phenex. |
| SD Gundam BB Senshi | N/A | RX-78-3 Gundam "G-3" Ver.GFT | Mobile Suit Variations | ¥1,029 | 2014 April | Color variant of BB-329 with Magnetic Coating joint parts, a display base, and additional marking sheet. |
| High Grade Universal Century | 1/144 | Unicorn Gundam 01 & 02 Ver.GFT [Strikes Odaiba Set] | Mobile Suit Gundam UC: Neo Zeong Strikes Odaiba! | ¥6,480 | 2014 August | Color variant of HGUC-178 and HGUC-175. |
| High Grade Reconguista In G | 1/144 | YG-111 Gundam G-Self (Atmosphere & Space Pack) Ver.GFT Metallic Color | Gundam Reconguista in G | ¥3,024 | 2015 March | Metallic color variant of HGRG-01 and HGRG-05. |
| GFT Gunpla Factory | 1/144 | RX-78-2 Gundam | Mobile Suit Gundam | ¥550 | 2015 April | All-new basic grade Gunpla kit with box for guests to color and assemble. Guests who purchase a ticket to the GFT Museum get the head parts runner as a free gift. |
| High Grade Universal Century | 1/144 | RX-0 Unicorn Gundam 03 Phenex Type RC (Destroy Mode) Ver.GFT Limited Silver Coating | Gundam Reconguista in G: From the Past to the Future | ¥2,571 | 2015 April | Silver chrome plated variant of HGUC Unicorn Gundam 03 Phenex. |
| High Grade Universal Century | 1/144 | RX-0 Unicorn Gundam 03 Phenex Type RC(Destroy Mode) Ver.GFT Limited Silver Coating + BD | Gundam Reconguista in G: From the Past to the Future | ¥7,560 | 2015 July | Silver chrome plated variant of HGUC Unicorn Gundam 03 Phenex, bundled with Blu-ray Disc release of From the Past to the Future. |
| Real Grade | 1/144 | MSZ-006-3 Zeta Gundam III Ver.GFT Limited Color | Competition of New Gundam - Red or White - | ¥3,500 | 2015 November | Color variant of RG-10. Fully transformable kit. |
| High Grade Universal Century | 1/144 | MSN-001-2 Delta Gundam II Ver.GFT Limited Color | Competition of New Gundam - Red or White - | ¥2,500 | 2015 November | Color variant of HGUC-136. Transforms via parts-swapping. |
| GFT Gunpla Factory | 1/144 | RX-78-2 Gundam (Clear Ver.) | Mobile Suit Gundam | ¥550 | 2016 April | Clear color variant of the GFT Gunpla Factory kit. |
| N/A | 1/144 | RX-78-2 Gundam (Assembly Experience Meeting Ver.) | Mobile Suit Gundam | N/A | 2016 May | Simplified version of HGUC-191. Free promo item exclusively for attendees of the Assembly Experience Meeting. |
| Real Grade | 1/144 | MSZ-006-3 Zeta Gundam III Initial Verification Type GFT Clear Color Ver. | Competition of New Gundam - Red or White - | ¥3,400 | 2016 July | Clear color variant of RG Zeta Gundam III Ver.GFT. Fully transformable kit. |
| High Grade Universal Century | 1/144 | MSN-001-2 Delta Gundam II Ver.GFT Limited Clear Color Ver. | Competition of New Gundam - Red or White - | ¥2,500 | 2016 July | Clear color variant of HGUC Delta Gundam II Ver.GFT. Transforms via parts-swapping. |
| High Grade Gundam Thunderbolt | 1/144 | FA-78 Full Armor Gundam [Gundam Thunderbolt] Ver.GFT Limited Metallic Color | Mobile Suit Gundam Thunderbolt | ¥3,000 | 2016 July | Metallic color variant of HGGT-01. |
| High Grade Universal Century | 1/144 | RX-0 Unicorn Gundam 03 Phenex (Destroy Mode) Silver/Gold Plating Ver.GFT Set | Mobile Suit Gundam UC: One of Seventy Two | ¥10,800 | 2016 July | Twin pack containing gold and silver chrome plated variants of HGUC Unicorn Gundam 03 Phenex. |
See Also
References
External links