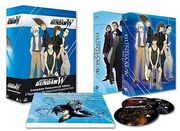 Gundam Wing: Complete Remastered Edition is a DVD boxset containing 10 discs following all 49 episodes of
Gundam Wing
. The visual and audio has been remastered from the old 90's originals. The boxset also includes a concept art book with drawings of the main characters, gundams and machines with text written in Japanese.
Discs
There are 10 discs spanning 49 episodes, with 5 episodes per disc. Extra material includes Japanese, English and French audio and subtitles and an episode preview chart. There is a Karoke video for the opening titles and a word from Beez about this boxset.
The Japanese version of this boxset is said to include the movie Endless Waltz, but the American/English release does not and thus the movie must be bought separate.
Limited Edition
There are a series of numbered limited editions which boast a number on the underside of the outer box. There could be 1,000 copies but maybe more.
Errors
Despite being for the most part, a perfect viewing experience, there is a slight graphical glitch near the end of Episode 1 which has been found on more than one copy. This can be easily forgiven and does not get in the way of the show.