Gunpla Battle
Talk

0
5,277pages on
this wiki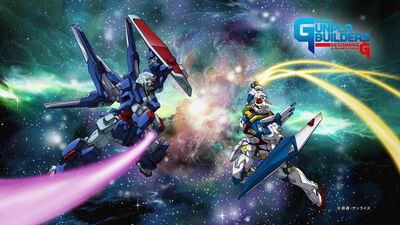 Gunpla Battle (ガンプラバトル, Ganpura Batoru) is an fictional simulated battles in Model Suit Gunpla Builders Beginning G, D, and J and later, appears in the Gundam Build Fighters anime series.
Overview
Model Suit Gunpla Builders Beginning series
In the OVA, you make a gunpla and go to the local P.O.D. arcade, which has a Haro for you to place the gunpla in. The player is required to wear a pilot suit. Game controls, as well machine specifications are based on how gunpla is created/customized. There is a Gunpla tournament, which requires a team of 3 to participate in.
The performance of machine is relative to the gunpla itself, every bit of detail increase its performance, while shoddy work makes it lower.
Gundam Build Fighters
Gunpla battles are operated on a large table-like 3D image projector shaped into seven or more hexagons and are set up in various locations around the world, including stores. To operate these, a person is also required to set an Action Base that registers the model and its creator as well as its operator. This allows a co-op battle with the Builder of the Gunpla acting as the operator/navigator and the pilot as the Fighter, though in several cases, a person may act as both. The machine also projects a holographic interface around the participating combatants, with the Fighters given a pair of glowing orbs that act as the controls. Weapon slots are displayed which shows the Gunpla's current weaponry. The Gunpla are then brought to life via Plavsky Particles. These particles are also able to fully replicate effects such as beam weaponry and thrusters as well as the arena itself and its physics to increase the realism and immersion. A Gunpla's performance directly correlates to the quality of its construction as well as the materials that were used. With the right materials used however, special resistance technologies such as i-Fields can be replicated, even on units that never had them in the original show as with the i-field used on the Apsalus III. Damage inflicted in Gunpla Battles occur in real time thus if a machine is, for example - beheaded - then the Gunpla will retain said damage after the battle concludes. This presents an immediate risk factor, especially for custom models as the builder will be forced to find replacement parts from other Gunpla kits for sufficient repairs. Thus, only truly skilled Fighters are likely to use custom models while minimizing damage as much as possible.
Known Gunpla Meisters
Picture Gallery