Ad blocker interference detected!
Wikia is a free-to-use site that makes money from advertising. We have a modified experience for viewers using ad blockers

Wikia is not accessible if you've made further modifications. Remove the custom ad blocker rule(s) and the page will load as expected.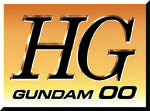 High Grade Gundam 00 or HG Gundam 00 is a line of 1/144 scale Gunpla kits of the Mobile Suits from the Anno Domini timeline in the Gundam meta series.[1]
This line introduced new design innovations that would become standard features in High Grade Universal Century and other HG 1/144 kits. One example is the universal hip joint connection, which replaces the ball joint connection with a series of peg and swivel joints that enable extended leg splits and hip rotation. Another innovation is the swiveling ball joint connection for the shoulders. Double joints on the elbows and knees are also standard in majority of this line.
| HG00 # | Model | Series | Yen Price | Release Date | Notes |
| --- | --- | --- | --- | --- | --- |
| 01 | GN-001 Gundam Exia | Mobile Suit Gundam 00 | ¥1,200 | Oct. 2007 | First release in the series. |
| 02 | SVMS-01 Union Flag | Mobile Suit Gundam 00 | ¥1,000 | Oct. 2007 | Fully transformable kit. |
| 03 | GN-002 Gundam Dynames | Mobile Suit Gundam 00 | ¥1,200 | Nov. 2007 | |
| 04 | GN-003 Gundam Kyrios | Mobile Suit Gundam 00 | ¥1,500 | Nov. 2007 | Fully transformable kit. |
| 05 | MSJ-06II-A Tieren Ground Type | Mobile Suit Gundam 00 | ¥1,200 | Nov. 2007 | |
| 06 | GN-005 Gundam Virtue | Mobile Suit Gundam 00 | ¥1,500 | Dec. 2007 | |
| 07 | SVMS-01E Union Flag Graham Aker Custom | Mobile Suit Gundam 00 | ¥1,000 | Dec. 2007 | Parts and color variant of HG00-02. Fully transformable kit. |
| 08 | MSJ-06II-SP Tieren Taozi | Mobile Suit Gundam 00 | ¥1,500 | Jan. 2008 | Parts and color variant of HG00-05. |
| 09 | GNW-001 Gundam Throne Eins | Mobile Suit Gundam 00 | ¥1,600 | Feb. 2008 | |
| 10 | MSJ-06II-E Tieren Space Type | Mobile Suit Gundam 00 | ¥1,500 | Feb. 2008 | Parts and color variant of HG00-05. |
| 11 | SVMS-01O Over Flag | Mobile Suit Gundam 00 | ¥1,200 | Mar. 2008 | Color variant of HG00-07; comes with "Trident Striker" linear rifle. Fully transformable kit. |
| 12 | GNW-002 Gundam Throne Zwei | Mobile Suit Gundam 00 | ¥1,600 | Mar. 2008 | Parts and color variant of HG00-09. |
| 13 | GN Arms Type E + Gundam Exia | Mobile Suit Gundam 00 | ¥5,500 | Mar. 2008 | Re-release of HG00-01 with the new GN Arms kit. Includes display stand and additional sticker sheet. |
| 14 | GNW-003 Gundam Throne Drei | Mobile Suit Gundam 00 | ¥1,600 | April. 2008 | Parts and color variant of HG00-09. |
| 15 | GN-004 Gundam Nadleeh | Mobile Suit Gundam 00 | ¥1,200 | April. 2008 | Companion kit to HG00-06. |
| 16 | MSJ-06II-ET Tieren Space Commander Type | Mobile Suit Gundam 00 | ¥1,500 | May. 2008 | Parts variant of HG00-10. |
| 17 | AEU-09Y812/A Ali Al-Saachez AEU Enact Custom Agrissa Type | Mobile Suit Gundam 00 | ¥1,000 | Jun. 2008 | Fully transformable kit. |
| 18 | GNX-603T GN-X | Mobile Suit Gundam 00 | ¥1,200 | July. 2008 | |
| 19 | AEU-09 AEU Enact | Mobile Suit Gundam 00 | ¥1,000 | Aug. 2008 | Parts and color variant of HG00-17; replaces blade rifle with linear rifle. Includes commander-type and standard-type head. Fully transformable kit. |
| 20 | AEU-09Y812 AEU Enact Ali Al-Saachez Custom | Mobile Suit Gundam 00 | ¥1,000 | Sept. 2008 | Color variant of HG00-17. Fully transformable kit. |
| 21 | GN Arms Type-D + Gundam Dynames | Mobile Suit Gundam 00 | ¥6,000 | Sept. 2008 | Re-release of HG00-03 with a parts variant of the GN Arms unit. Includes GN Pistols and Lockon Stratos figurine. |
| 31 | GN-001 Gundam Exia Trans-Am Mode | Mobile Suit Gundam 00 | ¥1,200 | Jan. 2009 | Gloss-injected color variant of HG00-01. |
| 32 | GN-002 Gundam Dynames Trans-Am Mode | Mobile Suit Gundam 00 | ¥1,200 | Jan. 2009 | Gloss-injected color variant of HG00-03. |
| 33 | GN-003 Gundam Kyrios Trans-Am Mode | Mobile Suit Gundam 00 | ¥1,500 | Jan. 2009 | Gloss-injected color variant of HG00-04. |
| 34 | GN-005 Gundam Virtue Trans-Am Mode | Mobile Suit Gundam 00 | ¥1,500 | Jan. 2009 | Gloss-injected color variant of HG00-06. |
| HG00 # | Model | Series | Yen Price | Release Date | Notes |
| --- | --- | --- | --- | --- | --- |
| 22 | GN-0000 00 Gundam | Mobile Suit Gundam 00 | ¥1,000 | Sept. 2008 | First HG00 kit for the second season. |
| 23 | GNX-609T GN-X III A-Laws Type | Mobile Suit Gundam 00 | ¥1,200 | Oct. 2008 | Parts and color variant of HG00-18. |
| 24 | GN-006 Cherudim Gundam | Mobile Suit Gundam 00 | ¥1,200 | Oct. 2008 | |
| 25 | GNX-704T Ahead | Mobile Suit Gundam 00 | ¥1,200 | Nov. 2008 | Comes with Automatons. |
| 26 | GN-008 Seravee Gundam | Mobile Suit Gundam 00 | ¥1,600 | Nov. 2008 | |
| 27 | GNX-704T/AC Mr. Bushido's Ahead | Mobile Suit Gundam 00 | ¥1,200 | Dec. 2008 | Parts and color variant of HG00-25. |
| 28 | GN-007 Arios Gundam | Mobile Suit Gundam 00 | ¥1,500 | Dec. 2008 | Fully transformable kit. Includes BA-1 display base with adapters for MS and MA modes and a connection bracket to combine with HG00-29 to form Archer Arios. |
| 29 | GNR-101A GN Archer | Mobile Suit Gundam 00 | ¥1,200 | Jan. 2009 | Fully transformable kit. Includes a connector piece to combine with HG00-28 to form Archer Arios. |
| 30 | GNZ-003 Gadessa | Mobile Suit Gundam 00 | ¥1,500 | Jan. 2009 | Includes BA-3 display base. |
| 35 | GNR-010 0 Raiser | Mobile Suit Gundam 00 | ¥800 | Jan. 2009 | Add-on kit to HG00-22. Includes GN Shields, GN Staff connector, and BA-3 display base. |
| 36 | GNX-609T GN-X III ESF Type | Mobile Suit Gundam 00 | ¥1,200 | Jan. 2009 | Color variant of HG00-23. |
| 37 | GN-009 Seraphim Gundam | Mobile Suit Gundam 00 | ¥1,000 | Feb. 2009 | Can transform and attach to HG00-26. |
| 38 | GN-0000+GNR-010 00 Raiser (Designer's Color Ver.) | Mobile Suit Gundam 00 | ¥1,800 | Feb. 2009 | Color variant of HG00-22 and HG00-35. Includes additional sticker sheet. |
| 39 | MSJ-06III-A Sergei's Tieren Taozi | Mobile Suit Gundam 00 | ¥1,500 | Feb. 2009 | Color variant of HG00-08. Includes beam rifle. |
| 40 | GNZ-005 Garazzo | Mobile Suit Gundam 00 | ¥1,500 | Mar. 2009 | Parts and color variant of HG00-30. Includes BA-3 display base. |
| 41 | GNX-704T/SP Ahead Smultron | Mobile Suit Gundam 00 | ¥1,200 | April. 2009 | Parts and color variant of HG00-25. |
| 42 | GN-0000+GNR-010 Trans-Am Raiser | Mobile Suit Gundam 00 | ¥2,000 | April. 2009 | Gloss-injected color variant of HG00-38. Includes GN Sword III and Raiser Sword effect parts, plus a sparkle clear green BA-3 display base. |
| 43 | GNW-20000 Arche Gundam | Mobile Suit Gundam 00 | ¥1,600 | April. 2009 | Includes Core Fighter that transforms via parts-swapping. |
| 44 | GN-001REII Gundam Exia Repair II | Mobile Suit Gundam 00 | ¥1,200 | Jun. 2009 | Parts variant of HG00-01. Box cover combines with HG00-45 to form one complete illustration. |
| 45 | GN-000 0 Gundam (Type A.C.D.) | Mobile Suit Gundam 00 | ¥1,200 | Jun. 2009 | Can attach either GN Particle Tank or GN Drive to its back. Box cover combines with HG00-44 to form one complete illustration. |
| 46 | GNX-Y901TW Susanowo | Mobile Suit Gundam 00 | ¥1,500 | Jun. 2009 | Includes BA-3 display base. |
| 47 | GNZ-005 Hiling Care`s Garazzo | Mobile Suit Gundam 00 | ¥1,500 | Jun. 2009 | Color variant of HG00-40. |
| 48 | GN-006GNHW/R Cherudim Gundam GNHW/R | Mobile Suit Gundam 00 | ¥1,800 | July. 2009 | Parts variant of HG00-24. |
| 49 | GNZ-007 Gaddess | Mobile Suit Gundam 00 | ¥1,600 | Aug. 2009 | Parts and color variant of HG00-30. Includes BA-3 display base. |
| 50 | GN-007GNHW/M Arios Gundam GNHW/M | Mobile Suit Gundam 00 | ¥1,800 | Aug. 2009 | Parts variant of HG00-28. |
| 51 | GN-008GNHW/B Seravee Gundam GNHW/B | Mobile Suit Gundam 00 | ¥1,800 | Sept. 2009 | Parts variant of HG00-26. Includes a Beam Machine Gun for HG00-37, some add-on parts can also be transferred to the latter. |
| 52 | GN-000 0 Gundam | Mobile Suit Gundam 00 | ¥1,200 | Sept. 2009 | Color variant of HG00-45. Includes GN Feather effect parts. |
| 53 | CB-0000G/C Reborns Gundam | Mobile Suit Gundam 00 | ¥1,800 | Sept. 2009 | Transforms into Reborns Cannon. |
| 54 | GN-0000+GNR-010 00 Raiser + GN Sword III | Mobile Suit Gundam 00 | ¥2,000 | Oct. 2009 | Color variant of HG00-42. |
| 55 | GNX-U02X Masurao | Mobile Suit Gundam 00 | ¥1,200 | Dec. 2009 | Parts and color variant of HG00-46. |
| 56 | GN-006 Cherudim Gundam Trans-Am Mode | Mobile Suit Gundam 00 | ¥1,200 | Dec. 2009 | Gloss injected color variant of HG00-24. |
| 57 | GN-007 Arios Gundam Trans-Am Mode | Mobile Suit Gundam 00 | ¥1,500 | Dec. 2009 | Gloss injected color variant of HG00-28. |
| 58 | GN-008 Seravee Gundam + GN-009 Seraphim Trans-Am Mode | Mobile Suit Gundam 00 | ¥2,400 | Dec. 2009 | Gloss injected color variant of HG00-26 and HG00-37. |
| 59 | GNX-Y901TW Susanowo Trans-Am Mode | Mobile Suit Gundam 00 | ¥1,500 | Jan. 2010 | Gloss injected color variant of HG00-46. |
| 60 | CB-0000G/C Reborns Gundam Trans-Am Mode | Mobile Suit Gundam 00 | ¥1,800 | Jan. 2010 | Gloss injected color variant of HG00-53. |
| HG00 # | Model | Series | Yen Price | Release Date | Notes |
| --- | --- | --- | --- | --- | --- |
| N/A | GNY-001 Gundam Astraea | Mobile Suit Gundam 00P | ¥ | Dec. 2007 | Dengeki Hobby February 2008 exclusive conversion kit for HG00-01. |
| N/A | GN-001 Gundam Exia (Metallic Ver.) | Mobile Suit Gundam 00 | ¥ | Apr. 2008 | Gunpla Expo in Nagoya exclusive metallic color variant of HG00-01. |
| N/A | GN-XXX Gundam Rasiel | Mobile Suit Gundam 00P | ¥ | Nov. 2008 | Dengeki Hobby January 2009 exclusive Furoku Grade (FG) kit. |
| N/A | GNR-000 GN Sefer | Mobile Suit Gundam 00P | ¥ | Dec. 2008 | Dengeki Hobby February 2009 exclusive Furoku Grade (FG) kit. Can combine with Gundam Rasiel to form GN-XXX+GNR-000 Sefer Rasiel. |
| N/A | GN-0000+GNR-010 00 Raiser (Clear Color Ver.) | Mobile Suit Gundam 00 | ¥ | Mar. 2009 | Gunpla Expo in Hiroshima exclusive clear color variant of HG00-38. |
| N/A | GN-0000+GNR-010 00 Raiser + GN-006 Cherudim Gundam (Clear Color Ver.) | Mobile Suit Gundam 00 | ¥ | Mar. 2009 | Gundam Big Expo exclusive clear color variants of HG00-38 and HG00-24. |
| N/A | GN-007 Arios Gundam + GNR-101A GN Archer (Clear Color Ver.) | Mobile Suit Gundam 00 | ¥ | Mar. 2009 | Gundam Big Expo exclusive clear color variants of HG00-28 and HG00-29. |
| N/A | GN-008 Seravee Gundam + GN-009 Seraphim Gundam (Clear Color Ver.) | Mobile Suit Gundam 00 | ¥ | Mar. 2009 | Gundam Big Expo exclusive clear color variants of HG00-26 and HG00-37. |
| N/A | SVMS-01O Over Flag + GNX-704T/AC Mr. Bushido's Ahead (Clear Color Ver.) | Mobile Suit Gundam 00 | ¥ | Mar. 2009 | Gundam Big Expo exclusive clear color variants of HG00-11 and HG00-27. |
| N/A | GN-XXX+GNR-000 Sefer Rasiel Dengeki Hobby 10th Anniversary Special Kit | Mobile Suit Gundam 00P | ¥1,300 | Aug. 2009 | C3×HOBBY exclusive release of Gundam Rasiel and GN Sefer. |
| N/A | GNR-010/XN XN Raiser Upgrade Kit | Mobile Suit Gundam 00V: Battlefield Record | ¥ | Aug. 2009 | Hobby Japan October 2009 exclusive accessory kit for HG00-35/38/42/54/70. Includes parts to attach to HG00-24, HG00-26, and HG00-28. |
| N/A | GN-0000+GNR-010 00 Raiser (ANA Original Color Ver.) | Mobile Suit Gundam 00 | ¥4,500 | Sep. 2009 | All Nippon Airways exclusive metallic color variant of HG00-38. |
| N/A | GN-001REII Gundam Exia Repair II (Clear Color Ver.) | Mobile Suit Gundam 00 | ¥ | 2009 | Asia exclusive clear color variant of HG00-44. |
| N/A | GN-XXX Gundam Rasiel (Clear Blue Ver.) | Mobile Suit Gundam 00P | N/A | Jan. 2010 | Dengeki Hobby exclusive clear color variant of the FG Gundam Rasiel kit; offered as a prize for 300 winners of the Dengeki Gunpla King 2009 finals. |
| N/A | GNR-000 GN Sefer (Clear Blue Ver.) | Mobile Suit Gundam 00P | N/A | Feb. 2010 | Dengeki Hobby exclusive clear color variant of the FG GN Sefer kit; offered as a prize for 300 winners of the Dengeki Gunpla King 2010 finals. |
| N/A | GN-0000+GNR-010 00 Raiser + GN Sword III (Metallic Ver.) | Mobile Suit Gundam 00 | ¥3,500 | Aug. 2010 | Gunpla Expo 2010 exclusive metallic color variant of HG00-54. |
| N/A | GN-001REII Gundam Exia Repair II & GN-000 0 Gundam (Type A.C.D.) | Mobile Suit Gundam 00 | ¥2,400 | Aug. 2010 | Gunpla Expo 2010 exclusive clear color variants of HG00-44 and HG00-45. Previously released exclusively in Asian markets on December 2009. |
| N/A | CB-001.5 1.5 Gundam Type Dark + Special Action Base | Mobile Suit Gundam 00I/Mobile Suit Gundam 00P | ¥2,400 | Aug. 2010 | Chara Hobby 2010 exclusive color variant of HG00-63 with a blue Action Base 3. |
| N/A | GN-0000GNHW/7SG 00 Gundam Seven Sword/G Inspection Color + Special Action Base | Mobile Suit Gundam 00V | ¥2,200 | Aug. 2010 | Chara Hobby 2010 exclusive color variant of HG00-61 with a red-orange Action Base 3. |
| N/A | GN-010 Gundam Zabanya (Clear Ver.) | Mobile Suit Gundam 00 The Movie -A wakening of the Trailblazer- | ¥1,800 | Aug. 2010 | P-Bandai exclusive clear color variant of HG00-67. |
| N/A | GNT-0000 00 Qan[T] (Clear Ver.) | Mobile Suit Gundam 00 The Movie -A wakening of the Trailblazer- | ¥1,700 | Sep. 2010 | Limited edition clear color variant of HG00-66; released to promote the A wakening of the Trailblazer film. |
| N/A | GNT-0000/FS 00 Qan[T] Full Saber GN Sword IV Full Saber | Mobile Suit Gundam 00 The Movie -A wakening of the Trailblazer- | ¥ | Dec. 2010 | Hobby Japan February 2011 exclusive accessory kit for HG00-66. |
| N/A | GNT-0000/FS 00 Qan[T] Full Saber GN Sword IV Full Saber (Clear Color Ver.) | Mobile Suit Gundam 00 The Movie -A wakening of the Trailblazer- | ¥ | Dec. 2010 | Hobby Japan February 2011 exclusive clear color variant of the GN Sword IV Full Saber. |
| N/A | GN-011 Gundam Harute (Clear Ver.) | Mobile Suit Gundam 00 The Movie -A wakening of the Trailblazer- | ¥1,900 | Jan. 2011 | P-Bandai exclusive clear color variant of HG00-68. Fully transformable kit. |
| N/A | CB-002 Raphael Gundam (Clear Ver.) | Mobile Suit Gundam 00 The Movie -A wakening of the Trailblazer- | ¥2,100 | Feb. 2011 | P-Bandai exclusive clear color variant of HG00-69. |
| N/A | GNR-001E GN Arms Type-E (Real Color Ver.) | Mobile Suit Gundam 00 | ¥4,600 | May. 2014 | P-Bandai exclusive color variant of HG00-13, minus HG00-01. Includes additional marking sheet. Compatible with RG-15. |
| N/A | Ptolemaios Container | Mobile Suit Gundam 00 | ¥TBA | October 2016 | P-Bandai exclusive accessory kit for HG00-01, RG-15, and other Celestial Being models. Manufactured by MegaHouse under their Realistic Model Series banner. |
References
See also