Ad blocker interference detected!
Wikia is a free-to-use site that makes money from advertising. We have a modified experience for viewers using ad blockers

Wikia is not accessible if you've made further modifications. Remove the custom ad blocker rule(s) and the page will load as expected.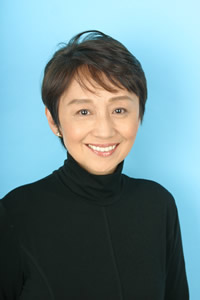 Keiko Han (潘 恵子 Han Keiko?, born April 5, 1953 in Tokyo, Japan) is a Japanese voice actress, actress and western astrologer of Taiwanese descent. She sang the theme songs in productions such as Story of the Alps: My Annette and Kazoku Robinson Hyōryūki Fushigi na Shima no Furōne. Han is a fortune teller of Western horoscopes, and has written several books on the subject. She is employed by the talent agency Never Land Arts, she was previously affiliated with Aoni Production & 81 Produce.[citation needed]
She is most known for the roles of Lalah Sune (Mobile Suit Gundam), Saori Kido (Saint Seiya), and Luna and Queen Beryl (Sailor Moon).
Han has a daughter, fellow voice actress Megumi Han.
Filmography[edit]
TV anime[edit]
1977
Chojin Sentai Barattack (Yuri)
Angie Girl (Angie Airinton)
1979
Mobile Suit Gundam (Lalah Sune, Icelina Eschonbach)
Entaku no Kishi Monogatari: Moero Arthur (Lady Guinevere)
Mirai Robo Daltanious (Sanae Shiratori)
1980
The Adventures of Tom Sawyer (Becky Thatcher)
Ganbare Genki (Tomoko Ishida)
Invincible Robo Trider G7 (Ikue Sunabara)
1981
Queen Millennia (Yayoi Yukino)
Dr. Slump Arale-chan (Drampire)
1982
Kikou Kantai Dairugger XV (Patty Ellington)
1985
Dancouga – Super Beast Machine God (Annette Hauser)
Sazae-san (Mitsuo Hama)
1986
Saint Seiya (Athena, Saori)
1987
Ai no Wakakusa Monogatari (Margaret "Meg" March)
City Hunter (Atsuko Kawada, Ep.12)
1988
Anpanman (Ramen Tenshi, Oshiruko-chan, Shabondaman, misc. voices.)
1989
1991
Goldfish Warning! (Yurika Sugadaira)
Mischievous Twins: The Tales of St. Clare's (Winnifred)
1992
Pretty Soldier Sailor Moon (Luna, Queen Beryl)
1993
Pretty Soldier Sailor Moon R (Luna)
1994
Pretty Soldier Sailor Moon S (Luna)
1995
Pretty Soldier Sailor Moon SuperS (Luna)
Bonobono (Araiguma-kun's mother)
1996
Detective Conan (Megumi)
Pretty Soldier Sailor Moon Stars (Luna)
2000
2002
2005
Air (Yamomo priestess)
Fushigiboshi no Futagohime (Moon Maria)
2011
Hunter × Hunter (Mito Freecss)
2014
The World is Still Beautiful (Sheila)
Space Dandy (Pup, Ep.8)
Unknown date
Galaxy Express 999 (Boshin Yuki)
Koguma no Mīsha (Natasha)
Maetel Legend (Queen Promethium)
Sgt. Frog (Keroro Boss, Kappa)
Space Battleship Yamato III (Ruda Sharubāto)
Story of the Alps: My Annette (Annette)
Ultraman Kids no Kotowaza Monogatari (Piko)
Video Senshi Resarion (Olivia)
Wakakusa Monogatari Yori Wakakusa no Yon Shimai (Elizabeth March (Beth)
Original video animations (OVAs)[edit]
Prefectural Earth Defense Force (1986) (Miyuki Ōyama)
Legend of the Galactic Heroes (1988) (Annerose von Grünewald)
Teito Monogatari (1991) (Yukari Tatsumiya)
Saint Seiya series (2002) (Athena, Saori)
Mobile Suit Gundam Unicorn: Episode 7: Over the Rainbow (2014) (Lalah Sune)
Films[edit]
Be Forever Yamato (1980) (Sasha)
Uchu Senshi Baldios (1981) (Jimmy Hoshino)
Mobile Suit Gundam III: Encounters in Space (1982) (Lalah Sune)
Harmageddon (1983) (Junko Sawakawa)
Locke the Superman (1984) (Jessica)
Doraemon: Nobita's Little Star Wars (1985) (Papi)
The Legend of the Gold of Babylon (1985) (Jinjao)
Mobile Suit Gundam: Char's Counterattack (1988) (Lalah Sune)
Legend of the Galactic Heroes: Overture to a New Year (1993) (Annerose von Grunewald)
Pretty Soldier Sailor Moon R The Movie (1993) (Luna)
Pretty Soldier Sailor Moon S The Movie (1994) (Luna)
The 9 Sailor Soldiers Get Together! Miracle in the Black Dream Hole! (1995) (Luna)
Doraemon: Nobita in the Wan-Nyan Spacetime Odyssey (2004) (Hachi's Mother)
Air (2005) (Yamano priestess)
Video games[edit]
Double Dragon (xxxx) (Rebecca Brielle)
Langrisser I & II - Der Langrisser (xxxx) (Jessica)
Marvel: Ultimate Alliance (xxxx) (Jessica Drew/Spider-Woman)
Marvel: Ultimate Alliance 2 (xxxx) (Jessica Drew/Spider-Woman)
Next King: Ai no Sennen Ōkoku (xxxx) (Marein Furakkusu)
Project Justice (xxxx) (Yurika Kirishima)
Saint Seiya series (xxxx-) (Athena, Saori)
Tengai Makyou II: Manjimaru (xxxx) (Princess Hamaguri, Jakōin Matsumushi)
Tenkajin (xxxx) (Kichō)
Dubbing roles[edit]
Live-action[edit]
Airwolf (season 4) (Jo Santini (Michele Scarabelli))
The Cannonball Run (1987 TV Asashi edition) (Marcie (Adrienne Barbeau))
Carrie (1976) (1980 TBS edition) (Carrie White (Sissy Spacek))
Carrie (2013) (Margaret White (Julianne Moore))
Dallas (Lucy Ewing Cooper (Charlene Tilton))
Knight Rider (April Curtis (Rebecca Holden))
La Boum 2 (Vic Beretton (Sophie Marceau))
White Men Can't Jump (Gloria Clemente (Rosie Perez))
Animation[edit]
The Flight of Dragons (Princess Milisande)
Iron Man (Julia Carpenter/Spider-Woman)
Other voice over work[edit]
Moero!! Robokon (1999) (Robopī)
Pretty Guardian Sailor Moon (2003) (Luna, cat-form)
Mahou Sentai Magiranger (2005) (Heavenly_Saint Snowgel)
Juken Sentai Gekiranger (2007) (Genju Pixie-Fist Hiso)