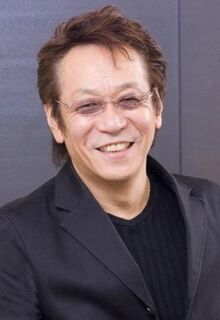 Kenyu Horiuchi (堀内 賢雄 Horiuchi Ken'yū?, born July 30, 1957 in Gotemba, Shizuoka) is a Japanese voice actor. In 2002 he founded his own voice acting management office, Kenyu Office.
FilmographyEdit
Television animationEdit
1983 Captain Tsubasa (Taki, Pierre)
1983 Ginga Hyōryū Vifam (Rerela Jeda)
1986 Transformers 2010 (Springer)
1987 Mister Ajikko (Chef Shimonaka)
1989 Tenkū Senki Shurato (Ten-ō Hyūga)
1990 Kyatto Ninden Teyandee (the narrator)
1990 Nadia: The Secret of Blue Water (Sanson)
1992 Tekkaman Blade (Balzac Asimov)
1992 YuYu Hakusho (Hokushin)
1996 After War Gundam X (Jamil Neate)
1996 B't X (Metalface)
1998 Cowboy Bebop (Gren)
1999 Monster Rancher anime (Durahan)
2000 Platinumhugen Ordian (Hideaki Sanada)
2001 Shaman King (Mikihisa Asakura, Ponchi)
2002 Mirage of Blaze (Kosaka Danjou)
2002 Saint Seiya (Libra Dohko)
2003 Ai Yori Aoshi (Ruka Saionji)
2003 Air Master (Julietta Sakamoto)
2004 Kyo Kara Maoh! (Dan Hiri Weller)
2004 Naruto (Tobirama Senju)
2005 Animal Yokochō (Yamanami-san)
2005 Eyeshield 21 (Leonard Apollo)
2005 Gun X Sword (The Claw)
2005 Mahoraba (Yukio Haibara (Johnny))
2005 Yakitate!! Japan (Brad Kidd)
2005 Zatch Bell! (Kieth)
2006 Hataraki Man (Narita)
2006 Koi suru Tenshi Angelique ~Kokoro no Mezameru Toki~ (Oscar)
2007 Koi suru Tenshi Angelique ~Kagayaki no Ashita~ (Oscar)
2006 Rakugo Tennyo Oyui (San'yūtei Enchō)
2006 Super Robot Wars Original Generation: The Inspector (Irmgart Kazahara)
2007 Dinosaur King (Noratti, a.k.a. Zander)
2007 Kaze no Stigma (Burnhart Rhodes)
2008 Bleach (Shūsuke Amagai)
2008 Gintama (Kintarou)
2008 Naruto Shippuden (Pain, Yahiko, Tobirama Senju)
2008 Rosario + Vampire Capu2 (Tosa the Tengu)
2008 Telepathy Shōjo Ran Jiken Note (Ronpei Isozaki)
2008 Tytania (Doctor Lee Zhang-Chen)
2009 Genji Monogatari Sennenki (Kiritsubo no Mikado)
2009 Guin Saga (Guin)
2009 Hajime no Ippo: New Challenger (Suguru Takamura)
2009 Shangri-La (Takehiko)
2010 Bakuman (Hisashi Sasaki)
2010 HeartCatch PreCure! (Coupé, Sora Hanasaki)
2010 Nodame Cantabile: Finale (Chiaki Masayuki)
2011 Bakuman 2 (Hisashi Sasaki)
2011 Gyakkyō Burai Kaiji: Hakairoku-hen (Yohishiro Kurosaki)
2011 Kamisama Dolls (Takeshi Hirashiro)
2011 Sekai-ichi Hatsukoi (Takafumi Yokozawa)
2011 Suite PreCure (Mephisto)
2012 Hunter × Hunter (TV 2011) (Goto, Ikalgo)
2012 Toriko (Ichiryuu)
2013 Kill la Kill (Barazo Mankanshoku)
2013 One Piece (Kin'emon)
2014 Baby Steps (Mike)
2014 Garo: Honō no Kokuin (Germán Luis)
2014 Hero Bank (Adachi Sumimori)
2015 Baby Steps Season 2 (Mike)
2015 Garo: Guren no Tsuki (Fujiwarano Michinaga)
2015 Saint Seiya: Soul of Gold (Libra Dohko)
2016 Joker Game (Lieutenant Colonel Yūki)
2016 Re:ZERO -Starting Life in Another World- (Wilhelm)
Original video animation (OVA)Edit
1987 Bubblegum Crisis (Daley)
1989 Blood Reign: Curse of the Yoma (Hikage)
1989 Legend of the Galactic Heroes (Anton Ferner)
1991 RG Veda (Bishamon-ten)
1992 Eternal Filena (Nesuto)
1997 B'tX Neo (Metalface)
2002 Saint Seiya: Hades Chapter - Sanctuary (Libra Dohko Young Form)
2005 Saint Seiya: Hades Chapter - Inferno (Libra Dohko Young Form)
2006 Fist of the North Star: Legend of Yuria (Toki)
2007 Fist of the North Star: Legend of Toki (Toki)
2009 Saint Seiya: The Lost Canvas (Altar Hakurei)
Theatrical animationEdit
1984 Macross: Do You Remember Love? (TV Reporter)
2001 One Piece: Nejimaki Shima no Bouken (Borodo)
2006 Fist of the North Star: Legend of Raoh: Chapter of Death in Love (Toki)
2007 Fist of the North Star: Legend of Raoh: Chapter of Fierce Fight (Toki)
2011 Alice in the Country of Hearts (Mary Gowland)
2012 s-CRY-ed (Unkei)
2014 Sekai-ichi Hatsukoi: Yokozawa Takafumi no Baai (Takafumi Yokozawa)
2015 Crayon Shin-Chan: My Moving Story! Cactus Large Attack! (Nene Rodriguez)
TokusatsuEdit
1984 Ultraman Story (Ultraman)
1984 Ultraman Zoffy: Ultra Warriors vs. the Giant Monster Army (Ultraman)
Video gamesEdit
1997 Ayakashi Ninden Kunoichiban (Johnny Tono)
1997 Everybody's Golf (Ralf)
1998 Radiant Silvergun (Buster)
1998 Ehrgeiz (Cloud Strife; arcade version)
1999 MediEvil (Sir Daniel Fortesque in Japanese Dub)
2001 Metal Gear Solid 2: Sons of Liberty (Raiden)
2004 Metal Gear Solid 3: Snake Eater (Major Ivan Raidenovitch Raikov)
2004 Tales of Rebirth (Geyorkias)
2007 Heart no Kuni no Alice (Amusemet Park Boss)
2007 Mana Khemia: Alchemists of Al-Revis (Gunnar Damm)
2008 Mana Khemia 2: Fall of Alchemy (Gunnar Damm)
2008 Metal Gear Solid 4: Guns of the Patriots (Raiden)
2008 Dissidia: Final Fantasy (Emperor)
2009 League of Legends (Twisted Fate)
2010 Kingdom Hearts: Birth by Sleep (Prince Charming)
2011 Dissidia 012 Final Fantasy (Emperor)
2013 PlayStation All-Stars Battle Royale (Sir Daniel Fortesque and Raiden in Japanese Dub)
2013 Skylanders: Spyro's Adventure (Flynn the Balloonist in Japanese Dub)
2013 Metal Gear Rising: Revengeance (Raiden)
2014 Ryū ga Gotoku Ishin! (Katsu Kaishū)
Unknown date
Ogre Battle (Warren Moon)
Skylanders: Giants (Flynn the Balloonist in Japanese Dub)
Super Robot Wars series (Irmgard Kazahara, Duke Fleed (Complete Box only), Jamil Neate, Olson D. Verne, Yllbora Saro, Light Newman, Mashymre Cello)
Dubbing rolesEdit
Live-actionEdit
Brad Pitt

Interview with the Vampire: The Vampire Chronicles (2000 TV Tokyo edition) (Louis de Pointe du Lac)
12 Monkeys (2000 Fuji TV edition) (Jeffrey Goines)
Seven (1999 TV Tokyo edition) (Detective David Mills)
Sleepers (1999 Fuji TV edition) (Michael Sullivan)
Seven Years in Tibet (Fuji TV edition) (Heinrich Harrer)
Friends (Will Colbert)
Spy Game (2003 Fuji TV edition) (Tom Bishop)
Ocean's Eleven (2005 Fuji TV edition) (Rusty Ryan)
Spy Game (2003 Fuji TV edition) (Tom Bishop)
Full Frontal (Brad Pitt)
Ocean's Twelve (2007 NTV edition) (Rusty Ryan)
Mr. & Mrs. Smith (2008 NTV edition) (John Smith)
Ocean's Thirteen (2010 Fuji TV edition) (Rusty Ryan)
The Tree of Life (Mr. O'Brien)
World War Z (Gerry Lane)
Fury (Don "Wardaddy" Collier)
The Big Short (Ben Rickert)

Charlie Sheen

Red Dawn (1987 TBS edition) (Matt Eckert)
Platoon (2003 TV Tokyo edition) (Chris Taylor)
Navy SEALs (1993 TV Asahi edition) (Lt. Dale Hawkins)
Hot Shots! (1995 TV Asahi edition) (Topper Harley)
Hot Shots! Part Deux (1996 TV Asahi edition) (Topper Harley)
The Three Musketeers (TV Asahi edition) (Aramis)
The Chase (1996 TV Asahi edition) (Jackson Hammond)
Terminal Velocity (1997 TV Asahi edition) (Richard "Ditch" Brodie)
The Arrival (Zane Zaminsky)
Money Talks (James Russell)
Shadow Conspiracy (Bobby Bishop)
Free Money (Bud Dyerson)
Postmortem (James McGregor)
Rated X (Artie Jay Mitchell)
Good Advice (Ryan Edward Turner)
Scary Movie 3 (Tom Logan)
Wall Street: Money Never Sleeps (Bud "Buddy" Fox)

Ben Affleck

Chasing Amy (Holden McNeil)
Good Will Hunting (Chuckie Sullivan)
Dogma (Bartleby)
Reindeer Games (2002 TV Asahi edition) (Rudy Duncan)
Jay and Silent Bob Strike Back (Holden McNeil / Ben Affleck)
Pearl Harbor (Rafe McCawley)
The Sum of All Fears (Jack Ryan)
Runner Runner (Ivan Block)

Brendan Fraser

The Passion of Darkly Noon (Darkly Noon)
The Mummy (2002 NTV edition) (Rick O'Connell)
The Mummy Returns (2004 Fuji TV and 2005 TV Asahi editions) (Rick O'Connell)
The Mummy: Tomb of the Dragon Emperor (2010 Fuji TV edition) (Rick O'Connell)
The Quiet American (Alden Pyle)
Crash (Rick Cabot)
Journey to the Center of the Earth (2010 TV Asahi edition) (Prof. Trevor Anderson)
Breakout (Jack Damson)
Gimme Shelter (Tom Fitzpatrick)

Ben Stiller

Reality Bites (Michael Grates)
Heavyweights (Tony Perkis, Jr. / Tony Perkis, Sr.)
Mystery Men (Mr. Furious)
The Royal Tenenbaums (Chas Tenenbaum)
Zoolander (Derek Zoolander)
Duplex (Alex Rose)
Starsky & Hutch (David Starsky)
Tropic Thunder (Tugg Speedman)
The Watch (Evan Trautwig)
Night at the Museum: Secret of the Tomb (Larry Daley)
Zoolander 2 (Derek Zoolander)

Christian Slater

Young Guns II ("Arkansas" Dave Rudabaugh)
Kuffs (George Kuffs)
Interview with the Vampire: The Vampire Chronicles (1998 Fuji TV edition) (Daniel Molloy)
Jimmy Hollywood (William)
Hard Rain (Tom)
Pursued (Vincent Palmer)

Clive Owen

Sin City (Dwight McCarthy)
Children of Men (Theo Faron)
Duplicity (Ray Koval)
Intruders (John Farrow)
Shadow Dancer (Mac)
Last Knights (Raiden)

Alias (Michael Vaughn (Michael Vartan))
Before I Go to Sleep (Ben Lucas (Colin Firth))
Begin Again (Dan Mulligan (Mark Ruffalo))
Beverly Hills, 90210 (Steve Sanders (Ian Ziering))
Breaking Bad (Gustavo "Gus" Fring (Giancarlo Esposito))
Blown Away (Anthony Franklin (Forest Whitaker))
Buffy The Vampire Slayer (Angel (David Boreanaz))
The Butler (2016 BS Japan edition) (Richard Nixon (John Cusack))
Colt 45 (Milo Cardena (Joeystarr))
Dark Angel (Logan (Michael Weatherly))
Das Boot (2004 TV Tokyo edition) (Lieutenant Werner (Herbert Grönemeyer))
Dragonheart: A New Beginning (Lord Osric of Crossley)
El tiempo entre costuras (Manuel Da Silva (Filipe Duarte))
Enough (Mitch Hiller (Billy Campbell))
Everest (Beck Weathers (Josh Brolin))
Extinction (Jack (Jeffrey Donovan))
From Vegas to Macau (Mr. Ko (Gao Hu))
Fuller House (Jesse Katsopolis (John Stamos))
Full House (Jesse Katsopolis (John Stamos))
Ghost (1999 TV Asahi edition) (Sam Wheat (Patrick Swayze))
High Fidelity (Rob Gordon (John Cusack))
Joe Dirt 2: Beautiful Loser (Joe Dirt (David Spade))
John Wick (Viggo Tarasov (Michael Nyqvist))
L.A. Law (Victor Sifuentes (Jimmy Smits))
Minority Report (John Anderton (Tom Cruise))
Mrs. Doubtfire (1997 TV Asahi edition) (Stuart Dunmeyer (Pierce Brosnan))
Point Break (Johnny Utah (Keanu Reeves))
Red Dwarf (Dave Lister (Craig Charles))
Rumble in the Bronx (TV Tokyo edition) (Tony (Marc Akerstream))
Saving Private Ryan (Private Daniel Jackson (Barry Pepper))
Seinfeld (Jerry Seinfeld (Jerry Seinfeld))
Sin City: A Dame to Kill For (Dwight McCarthy (Josh Brolin))
A Sound of Thunder (Travis Ryer (Edward Burns))
Star Wars Episode IV: A New Hope (2002 NTV edition) (Han Solo (Harrison Ford))
Survivor (Sam Parker (Dylan McDermott))
Team America: World Police (Joe)
The Truman Show (Truman Burbank (Jim Carrey))
Will & Grace (Will Truman (Eric McCormack))
AnimationEdit
An Extremely Goofy Movie (Bradley Uppercrust III)
Brandy and Mr. Whiskers (Mr. Whiskers)
Buzz Lightyear of Star Command (XR)
Chip 'n Dale Rescue Rangers (TV Tokyo dub) (Chip)
Cinderella III: A Twist in Time (Prince Charming)
Donkey Kong Country (Eddie the Mean Old Yeti)
The Emperor's New Groove (Kronk)
The Emperor's New School (Kronk)
Godzilla: The Series (Nick Tatopoulos)
Kronk's New Groove (Kronk)
Madagascar 3: Europe's Most Wanted (Stefano)
My Little Pony: Friendship Is Magic (Fancy Pants)
Pecola (Gazelle)
Pocahontas II: Journey to a New World (John Smith)
The Simpsons (Alec Baldwin)
Police Academy: The Animated Series (Larvell Jones)
Teenage Mutant Ninja Turtles (BS2 dub) (Leonardo)
Tom and Jerry: The Movie (Tom)
Widget (Mega Brain and Additional Voices)
Ad blocker interference detected!
Wikia is a free-to-use site that makes money from advertising. We have a modified experience for viewers using ad blockers

Wikia is not accessible if you've made further modifications. Remove the custom ad blocker rule(s) and the page will load as expected.