Navigation
Overview • Categories • Articles • Discussion • FAQ • Help • Things To Do • Article Requests • Copyrights •
• Series • Timelines • Factions • Characters • Mobile Weapons • Technology • Locations
This is not a role playing site, it is a
resource center
. We are interested in the contribution of official information, not player profiles which are
completely fictional
.
Please head over to Gundam Fanon Wiki if you are interested in fanmade Gundams.
If you are a first time user and need assistance, contact one or more of the following administrators for assistance:
Featured Article
Latest News
Announced at
Sunrise's Gundam Panel at Otakon 2017
SEED & SEED Destiny HD Remasters to Be Released in The West with A New Dub
August 11, 2017
At Sunrise's Gundam Panel at Otakon 2017, it that will release the HD remastered versions of Mobile Suit Gundam SEED and Mobile Suit Gundam SEED Destiny with new English dubs recorded at NYAV Post.
The dub for SEED will have a brand new cast under director Carrie Keranen:
Max Mittelman as Kira
Chris Hackney as Athrun
Stephanie Sheh as Lacus
Sandy Fox as Haro
Cherami Leigh as Cagalli
Erica Mendez as Flay
Lucien Dodge as Sai
Cassandra Morris as Miriallia
Colin DePaula as Tolle
Eddy Lee as Kuzzey
Daman Mills as Yzak
Johnny Yong Bosch as Dearka
Casey Mongillo as Nicol
The HD Remasters of SEED and SEED Destiny were originally broadcast in 2011 and 2013, respectively, rearranging a lot of the songs and background music.
Source: Anime News Network
Yoshikazu Yasuhiko Is Interested in a Mobile Suit Gundam Remake
August 13, 2017
Illustrator and anime director Yoshikazu Yasuhiko stated in an interview with the Daily Sports newspaper on Sunday that he would be open to a remake of the original 1979 Mobile Suit Gundam anime.
In response to a question of whether the ongoing Mobile Suit Gundam: The Origin prequel anime series will eventually continue on to the main One-Year War story of the first Gundam anime, Yasuhiko replied "I'd be lying if I said I wouldn't do it. The length of the story is no joke, though." He also stated that the staff feel the same way.
Daily Sports reported that there is a "big project" or projects underway to celebrate the anime's 40th anniversary in 2019, but did not state whether this project would be a remake.
Yasuhiko stated that he still has some regrets regarding the 1979 series, and how its scheduling and budget issues prevented it from reaching its best form. "The first series is always #1 to me. But now, even if you want to show it to young people, you can't."
Yasuhiko worked as an animation director and the character designer of the original series, as well as the character designer of the sequels Mobile Suit Zeta Gundam, Mobile Suit Gundam F91, and Mobile Suit Gundam Unicorn. He later launched the Mobile Suit Gundam: The Origin manga in 2001, and ended it in 2011. The manga is a retelling of the original series' story, with some of the details changed. The manga served as the basis for the eventual original video anime (OVA) series of the same name, which began in 2015 and tells a prequel story. Yasuhiko is credited as the chief director for the OVA project. The fifth installment in the series opens in Japan on September 2.

Source: Anime News Network
Did You Know...?
... that Mobile Suit Gundam was far less popular and critically acclaimed during its original release than it is today?
... that Mobile Suit Zeta Gundam established the eventual trend of the lead pilot(s) getting a generally-improved Gundam as main mobile suit at some point during the series?
... that After War Gundam X is the shortest non-OVA installment in the franchise, with a total of 39 episodes, whereas most Gundam series run an average of ~50 episodes.
... that Mobile Suit Gundam 00 was the first non-OVA Gundam series to be split into two seasons, rather than being aired in a continuous airing?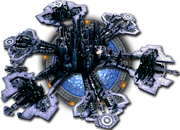 Featured Quote
"

Kill because someone got killed, and being killed because you killed. Would that really bring about true peace in the end?

"
Featured Picture
Lydo Wolf was an Ace Pilot of the Earth Federation Forces during the One Year War. He is known as the "Dancing Black Death", due to painting his mobile suits black, and is credited with 68 Mobile Suit kills and 4 battleships sunk.
Poll
On a scale of 1-10, rate Mobile Suit Gundam ZZ
Improvement Drive
This semester's improvement drive:

Please improve the article in any way you can.

Wiki improvement aims
Classify/Identify images
Standard article organization
Standard article layout
Standard information boxes
Proper citation
Create blog post
Blogs
Hey guys what's is your favourtie Gundam of TV Series and Movies?

Here's a list

Mobile Suit Gundam

Mobile Suit Zeta Gundam

Mobile Suit Gundam ZZ

Mobile Suit Gundam: Char's Counterattack

Mobile Suit SD Gund…

Read more >

MBF-P01-Re3 Gundam Astray Gold Frame AmatsuHana MBF-P01-Re3 ガンダムアストレイゴールドフレーム天ハナ from "Mobile Suit Gundam SEED ASTRAY Princess of the Sky"

Read more >
See more >
Ad blocker interference detected!
Wikia is a free-to-use site that makes money from advertising. We have a modified experience for viewers using ad blockers

Wikia is not accessible if you've made further modifications. Remove the custom ad blocker rule(s) and the page will load as expected.