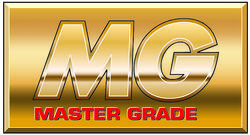 Master Grade (MG) (マスターグレード Masutā Gurēdo) is a line of Gunpla kits of the Mobile Suits in the Gundam meta series. First produced in 1995 as part of the Gundam 15th Anniversary project, the scale for these models is 1/100.
Aside from the Gundam franchise, the Master Grade line has hosted other mecha anime series such as Aura Battler Dunbine and Mobile Police Patlabor. The line also has a spin-off line called Master Grade Figurise, which focuses on character kits for anime titles such as Dragon Ball Z, One Piece, and Tiger & Bunny, as well as tokusatsu titles such as Kamen Rider.
Beginning in 2002, Gundam mecha designer Hajime Katoki began redesigning various suits and releasing them in the Master Grade line under the label of "Ver. Ka" (Version Katoki).
Yen price excluding 8% tax
Note: All Gundam Wing kits marked with "EW" mean that they have been redesigned by Hajime Katoki and do not appear in the anime Mobile Suit Gundam Wing, though they are featured in New Mobile Report Gundam Wing Endless Waltz: The Glory of Losers.
See also
External links
Cite error: <ref> tags exist, but no <references/> tag was found