Mobile Suit Gundam Thunderbolt (機動戦士ガンダム サンダーボルト, Kidō Senshi Gandamu Sandāboruto?) is 2015 ONA created by Sunrise based on the manga of the same name. The series aired a total of four episodes, and will initially be available digitally via an Electronic Sell Through service, where users will be able to download the episodes after purchase. In 2016, the compilation movie of the first season, Mobile Suit Gundam Thunderbolt: December Sky, was released worldwide and in 2017, the second season began airing.
Synopsis
Season 1
During the One Year War of U.C. 0079, the Earth Federation and Principality of Zeon engage in a fierce battle at the "Thunderbolt Sector", a shoal zone in the former Colony Side 4 "Moore". After successfully infiltrating Zeon's sniper field, ace Federation pilot and jazz enthusiast Io Fleming is given control of the latest Gundam prototype.
Season 2
Episodes
Characters
Earth Federation Forces/Moore Brotherhood
Principality of Zeon/Living Dead Division
Mechanic
Earth Federation Forces
Mobile Weapons
Vehicles and Support Units
Principality of Zeon
Mobile Weapons
Vehicles and Support Units
Gallery
References
Videos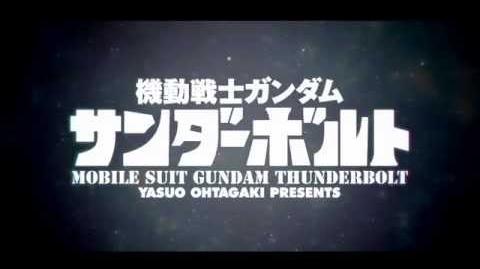 See also
External links
Ad blocker interference detected!
Wikia is a free-to-use site that makes money from advertising. We have a modified experience for viewers using ad blockers

Wikia is not accessible if you've made further modifications. Remove the custom ad blocker rule(s) and the page will load as expected.