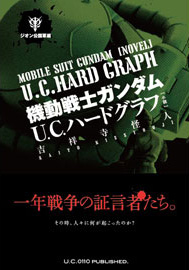 Mobile Suit Gundam U.C. HardGraph:Zeon army Hen(機動戦士ガンダム U.C.ハードグラフ [小説] ジオン公国軍編)is a novel written by The Phantom Kichijoji and published by Enterbrain in 26 May 2012.
Story
Chapters
Prologue
Episode 1
Episode 2
Episode 3
Episode 4
Episode 5
Epilogue
List of Mechanics
Gallery
Editions
External Links
Ad blocker interference detected!
Wikia is a free-to-use site that makes money from advertising. We have a modified experience for viewers using ad blockers

Wikia is not accessible if you've made further modifications. Remove the custom ad blocker rule(s) and the page will load as expected.