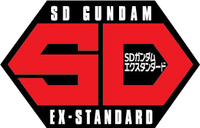 SD Gundam EX-Standard (SDEX) (SDガンダム エクスタンダード, SD Gandamu Ekusu Sutandādo?) is a line of Super Deformed Gunpla kits of the Mobile Suits from the Gundam metaseries. Initially released exclusively for sale outside of Japan[1] in late 2015, the line was released in Japan in the Summer of 2016. Each kit has a gimmick wherein their weapons and accessories can be used with High Grade 1/144 Gunpla kits.
See also
References
External links
Ad blocker interference detected!
Wikia is a free-to-use site that makes money from advertising. We have a modified experience for viewers using ad blockers

Wikia is not accessible if you've made further modifications. Remove the custom ad blocker rule(s) and the page will load as expected.