Shin

Appearances

Anime
Manga

Voices

Japanese
English

Profile

Died
Status
Gender
Affiliation
Occupation
Rank
Shin(シン) is a fictional character in the Mobile Suit Gundam TV series and Mobile Suit Gundam: The Origin manga.
History
Mobile Suit Gundam
Mobile Suit Gundam: The Origin
Gallery
Notes and Trivia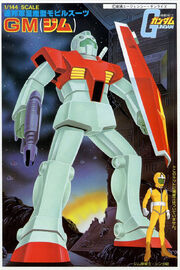 Despite being a minor character, Shin was featured on the box cover of 1/144 Original GM model kit (1981).

In 2008, Shin gets his own character card for the Master Grade First Gundam campaign, with his spoken last words imprinted in the card.
Reference
External Links
Ad blocker interference detected!
Wikia is a free-to-use site that makes money from advertising. We have a modified experience for viewers using ad blockers

Wikia is not accessible if you've made further modifications. Remove the custom ad blocker rule(s) and the page will load as expected.