List of characters in Superior Defender Gundam Force.
Neotopia
Anna
Crane
Gryps One (A.K.A. Grypapa)
Gryps Two (A.K.A. Grypo)
Patrol Ball
Patrol GM
Worker Ball
Worker GM
Super Dimensional Guard
Assistant Ball
Assistant GM
Operator GM
Dark Axis
Lacroa
Ark
De'Scar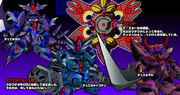 Duplicate Neotopia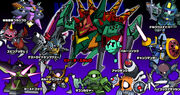 Acgtank
Balloon Zock
Cursed Gogg
Destroyer Kampfer
Duel Captain
Fort Braw Bro
Gelgoog Sniper
Gyan Commander
Hy-Gogg Assassin
Spin Adzam
Volt Acguy
Duplicate Lacroa
Bishop Taurus
Chief Maganac
Duel Zero
Heavy Knight Virgo
Knight Scorpio
Maganac
Mage Taurus
Master Mereate
Mirror Tallgeese
Pawn Aries
Serpent Golem
Duplicate Ark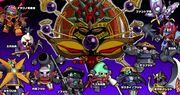 Cannon Busshi
Duel Maru
Fallen Warrior
Kairikimaru
Karakurimaru
Minaret Saber
Pesca Tengu
Phantom Moth
Skullmaru
Vagabond Nobusshi
Dimensional Pirate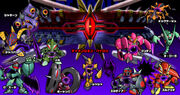 Chick-Yarju
Cuntei
Da-Goola
Duel Master
Geekeng
Gu-Zoola
Jababa
Kuchi Kuchi
Shasha
Shatarn
Zooloo
Zoolooati
Zooloodia
Ad blocker interference detected!
Wikia is a free-to-use site that makes money from advertising. We have a modified experience for viewers using ad blockers

Wikia is not accessible if you've made further modifications. Remove the custom ad blocker rule(s) and the page will load as expected.