Home
Talk

62
5,089pages on
this wiki
Navigation
overview • categories • articles • discussion • faq • help • things to do • article requests • copyrights •
• series • timelines • factions • characters • mobile weapons • other vehicles • technology • locations
This is not a role playing site, it is a
resource center
. We are interested in the contribution of official information, not player profiles which are
completely fictional
.
Please head over to Gundam Fanon Wiki if you are interested in fanmade Gundams.
If you are a first time user and need assistance, contact one or more of the following administrators for assistance:
Featured Article
Latest News
Mobile Suit Gundam UC (Unicorn) Vol. 6
Bandai Visual released the 6th installment of Mobile Suit Gundam Unicorn, "Space & Earth", in 16 theaters in Japan on March 2nd 2013. DVD & Blu-ray releases followed on March 22nd.
Gundam Unicorn is based on the novel of the same name written by Hautoshi Fukui, continuing with the events after the Mobile Suit Gundam: Char's Counterattack in Universal Century timeline. The OVA is planned to have 7 episodes, the seventh and final of which will be released next year.
Mobile Suit Gundam SEED Destiny
HD Remaster Project
The Mobile Suit Gundam Seed Destiny HD Remaster project began streaming on the Bandai Channel service on March 29 at 11:00 p.m. in Japan, the BS11 satellite channel on April 7, and on the Tokyo MX TV channel on April 9. Fans in the US can catch episodes streamed weekly on the Gundam Info YouTube Channel.
Mobile Suit Gundam SEED HD Remaster
The celebration of the 10th anniversary of Gundam Seed, Gundam SEED HD Remaster, has now concluded. If you missed it, you can still catch up at the Gundam Info website or in their YouTube Channel.
The fourth and final Mobile Suit Gundam SEED HD Remaster box set was released on December 21st, 2012. It comprises episodes 39-48 and the After Phase special, and retails at about 15,485 yen (about US$191).
Source: Anime News Network
Did You Know...?
... that Mobile Suit Gundam was far less popular and critically acclaimed during its original release than it is today?
... that Mobile Suit Zeta Gundam established the eventual trend of the lead pilot(s) getting a generally-improved Gundam as main mobile suit at some point during the series?
... that After War Gundam X is the shortest non-OVA installment in the franchise, with a total of 39 episodes, whereas most Gundam series run an average of ~50 episodes.
... that Mobile Suit Gundam 00 was the first non-OVA Gundam series to be split into two seasons, rather than being aired in a continuous airing?

Featured Quote
Featured Picture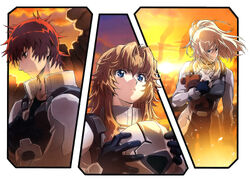 The Gundam Meisters featured in Mobile Suit Gundam 00P; (from left to right) Ruido Resonance, Chall Acustica, and Marlene Vlady. They are the pilots that were involved in testing the Second Generation Gundams, whose data led to the development of Third Generation Gundams seen in the Season 1 of Mobile Suit Gundam 00.
Improvement Drive
This week's improvement drive:

Please improve the article in any way you can.

Wiki improvement aims
Standard category organization
Standard article organization
Standard article layout
Standard information boxes
Proper citation