Featured Quote
"

Kill because someone got killed, and being killed because you killed. Would that really bring about true peace in the end?

"
Featured Picture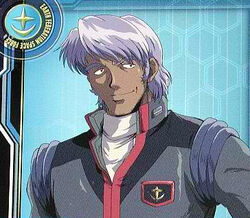 Lydo Wolf was an Ace Pilot of the Earth Federation Forces during the One Year War. He is known as the "Dancing Black Death", due to painting his mobile suits black, and is credited with 68 Mobile Suit kills and 4 battleships sunk.
Poll
On a scale of 1-10, rate Mobile Suit Gundam III: Encounters in Space.
Improvement Drive
This semester's improvement drive:

Please improve the article in any way you can.

Wiki improvement aims
Standard category organization
Standard article organization
Standard article layout
Standard information boxes
Proper citation
Create blog post
Blogs
So since I can't usually do all of the contribution in Gunplapedia by myself, Can you guys lend me a hand? I welcome every contributor here to help me improve the wiki.

Here are da rules:

Read more >

I have a suggestion:

We should create a new separate wikia for Gunplas/Plamo by Bandai.

The suggested names are: "Gunpla-pedia", Gunpla Wiki", or "Plamo-pedia".

Read more >
See more >
Ad blocker interference detected!
Wikia is a free-to-use site that makes money from advertising. We have a modified experience for viewers using ad blockers

Wikia is not accessible if you've made further modifications. Remove the custom ad blocker rule(s) and the page will load as expected.