ZAFT Armed Keeper of Unity
Talk

0
5,073pages on
this wiki
The ZAFT Armed Keeper of Unity (ZAKU) is the standard mobile suit of ZAFT since the end of the Second Battle of Jachin Due, being a replacement for the less maneuverable GINN units.
History
The ZAKU series are ZAFT's primary mass production mobile suits, although they are recently introduced and have yet to fully replace its predecessors. The name "ZAKU" is an acronym for "'ZAFT Armed Keeper of Unity". During CE 74, the ZAKU began a slow phase-out in favor of the more advanced GOUF Ignited, although it is still widely used.
Variants
ZAKU Warrior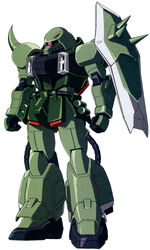 The ZAKU Warrior was the very first mass produced model of the ZAKU series and has been the most common variation, being compatible with many weapon settings for both close range and long range combat.
ZAKU Phantom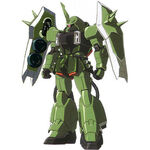 The ZAKU Phantom is the second generation of the ZAKU series and features improved maneuverability and weapon variations including the compatibility with the Strike Packs. The Phantom variation looks just the same as the Warrior variation, the only difference is the added shield mounted on the right shoulder and the horn present on the ZAKU's head
Other Variants
Trivia
The ZAKU Warrior is the variant of the ZAKU that is most similar to the Zaku II from the original Gundam-series. The main difference is that the shield is located on the left arm rather than the right, and that it is bigger.